Celebration of Constitution Day (Constitution Day) at NIC Telangana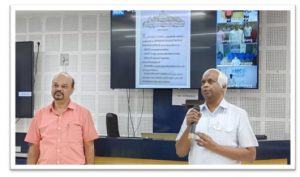 Officers and staff of NIC Telangana assembled at 6th floor conference hall with DIOs joining through video conferencing to celebrate Samvidhan Divas (Constitution Day) on 26th November 2022 at 11 am.
Mister. Peter Francis Thambusamy A, DDG & SIO and Shri. Anil Rathod, Std & HOD NIU Hyderabad read out the Preamble of the Constitution to the officers and staff in English and Hindi respectively.