CSI SIG eGov Awards Jeevandan and Rytubandhu Projects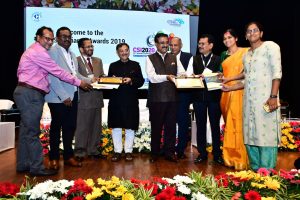 CSI SIG eGov Awards 2018-19 – Award of Excellence & amp; award of appreciation
NIC Telangana State Hyderabad.
They Designed, Developed and Hosted by NIC Telangana State Health, Medical and Family Welfare, Govt. Awarded "Excellence Award" with "Jeevandaan" (cadaver transplant program i.e. organ allocation to recipients after receiving from brain dead donors) of Telangana and Agriculture Department, Govt. of Telangana, Hyderabad titled "Rytubandhu" (Agriculture Investment Support Scheme – Benefit Scheme for Agricultural Farmers by disbursement of Rs.5,000/- per acre per season through DBT) at the CSI SIG Annual Conference 2020 of CSI SIG e-Governance" Appreciation Award". Awards 2018-19 which is held on 17 January 2020 at Kalinga Institute of Industrial Technology (KIIT), Bhubaneswar."Jeevandan" and "Rytubandhu" both are being successfully implemented and running under the guidance of Shri K. Rajasekhar, SIO & DDG and Shri S.V.Sreehari Raju, ASIO (State) & DDG
Dr. G. Swarnalatha, Senior Medical Professional & Incharge-Jeevandan, Nizam's Institute of Medical Sciences, Hyderabad attended the function to receive the "Award of Excellence" under the Project State category.
Smt K Vijaya Gauri, JDA and Shri MA Masood Khan, ADA, Commissioner, Agriculture Department attended the function to receive the "Award of Appreciation" under the Project State category.
Mr. N. Suresh Kumar, Technical Director, Mr. N. CH. R. Chakraborty, Scientist E and Mrs. M. Shailaja, Scientist C also participated in the award ceremony along with Health, Medical and Medical. Family Welfare and Agriculture Officer. The dignitaries and CSI officials appreciated the efforts of the officers of the department and NIC.
CSI Authority and Shri BP Acharya, IAS, Spl. Chief Secretary, Government of Telangana presenting the Excellence Award for Jeevandan Project of Health & Well being; Telangana State Medical Officer and NIC TS.
"Excellence Award" for Jeevan Daan Project and "Appreciation Award" for Rytubandhu Project.