ICT support by NIC during Hon'ble President of India visit to Hyderabad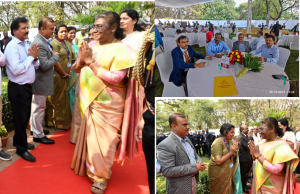 Hon'ble President of India Smt. Draupadi Murmu visited Hyderabad for the five-day sojourn from 26th Dec 2022 and stayed at the Rastrapati Nilayam Hyderabad . The Hon'ble President presided over various functions and events during the visit to Hyderabad.
NIC Officers from Hyderabad were entrusted with the task of providing the necessary ICT Infrastructure support in the Rastrapati Nilayam. The officers coordinated with Presidents Secretariat staff , BSNL , TSTS and other agencies in providing round the clock technical support during the stay of Hon'ble President at Rastrapati Nilayam Hyderabad .
A 24×7 control room was set up at the Rastrapati Nilayam for providing the ICT services by NIC Hyderabad Team along with NFEs/FMS engineers .
Sh. Baldev D, Sci-F, Sh. P. Sreenath Rao, Sci-E ,Sh. G Rajashekar Sci-E, K.V. Suryanarayana Sci-C and FMS engineers from NIC-Hyderabad were part of the team involved in providing the ICT support at Rastrapati Nilayam , Hyderabad under the guidance of Shri Peter Francis Thambusamy A, DDG, SIO-TS & Head NIU and Sh M S Shathi Kumar STD & ASIO State.
NIC Officers were also invited by the President's office to be part of the "at Home" function held at Rastrapati Nilayam, where in the Hon'ble President met & dined with the various Central & State Ministers, Senior Bureaucrats, eminent personalities & Government officials . Sh M S Shathi Kumar STD & ASIO State along with Sh Srinath Rao , Sci E represented NIC at the event.