Visit of Hon'ble Prime Minister to Ramagundam, Telangana – ICT Support provided by NIC Telangana (12 November 2022)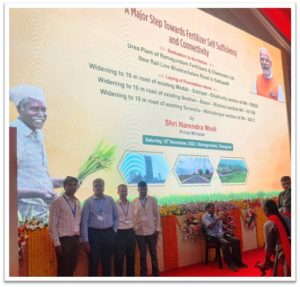 Shri Narendra Modi, Hon'ble Prime Minister of India visited Ramagundam, Peddapalli District, Telangana on 12/11/2022. Hon'ble Prime Minister dedicated to the nation the Urea Plant of Ramagundam Fertilizers and Chemicals Limited (RFCL). Also, from Mahatma Gandhi Stadium at National Thermal Power Corporation Limited (NTPC), Ramagundam Hon'ble Prime Minister virtually inaugurated various projects.
Mr. VNV Vijaya Kumar, TD & DIO Hanumakonda and Sh. A. Shiva Ramulu, TD & DIO Karimnagar provided ICT support to Mahatma Gandhi Stadium, NTPC and RFCL, Ramagundam respectively during the visit of Hon'ble PM. DIO effectively coordinated with various agencies like BSNL, PMO, RFCL to make the event successful.
Shri B. Vimal Kumar, Mr. Ramesh, Network Field Engineer and Mr. A.K. Ramesh, IRAD Manager of NIC, Peddapalli District Center assisted in setting up and maintaining the sites.
Officials of Prime Minister's Office appreciated the support extended by NIC Telangana at various places during the visit of Hon'ble Prime Minister.