Visit of State Coordinator to NIC Telangana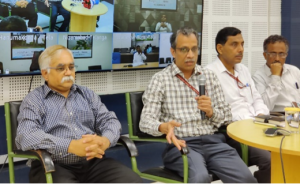 Shri V.T.V Ramana, DDG and Telangana State coordinator visited NIC Telangana State Unit on 24th August 2023. A warm welcome was given to Shri V.T.V Ramana, DDG by Shri Ajay Madhukar Joshi, DDG & SIO-TS, Hyderabad on behalf of all Officers and Staff of NIC TS.
Shri V.T.V Ramana, DDG jointly addressed all employees of NIC, Telangana, NIC-NIU , Central Projects along with DIO's connected through VC at the 6th Floor Conference Hall in an open forum.